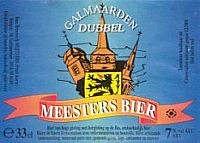 The brewery was founded in 1993 and is located in a former barn. Did you know that Koen Demeulemeester, the younger brother of Andre, the brewer was Delbeccha Brewery in Dilbeek? However, when starting the brewery in Galmaarden was the activity Delbeccha stopped. Three beers are a fixed value for the brewery: Masters double, triple and Christmas beer. These concoctions brewed the same way. The big difference between these beers is the mixture of malts (the Christmas beer contains less than 7 malts!). Whenever the brewer also uses the herb cilantro. André brews recently beers to order. The boiler and fermentation tanks are all material of a dairy farm and now perfectly serve as a brewery attributes.
In the cooking kettle is heated water, this water is added to the milled (= broken) malt 34 so as to achieve the desired 4 temperatures, necessary for the conversion of starch into sugar. The boiler where the crushed malt occupants is not heated! This brewing method calls the 4-stage decoction method. After this the wort (the liquid portion of the brew kettle) pumped into the boiler, where it cooks for 2 hours, the hops are added here. Afterwards it is pumped into the fermentation tanks all where it will ferment for two weeks. After the bearing is pulled onto the bottles. André and Karin this happens manual. They did however can tap a bottle cleaner on the head that illuminates them manual work at this stage.
The brewing capacity per brew is 500 liters, the brewing activity is a weekendjob André and Karin. They usually do two brews per week (per day), since they have two fermentation tanks of 500 liters. Every year they brew 150 hl.
Share:

Style:

Tripel

Alcohol Content:

7%

Global Rating:
No News