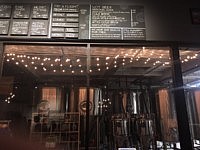 PostModern Brewers is an American brewery from Boise, Idaho.
Craft beer, without a doubt exemplifies what is modern in beer.  In just a little more than three decades of history, more than 2,000 independent breweries have risen from nowhere producing thousands of unique beers and throngs of dedicated beer geeks.  America's craft brewers have been celebrating beer's ancient history and creating new traditions all their own, and the world has responded.  PostModern Brewers honors all the work that has come before us while re-imagining the form.
PostModern Brewers approach to craft beer is an all inclusive one.  Our goal is to create brews that can be enjoyed by not only the craft beer enthusiast, but by everyone.  Embracing classic styles, subtle reinterpretations of global favorites, straight ahead American craft beer staples and unique signature brews unlike those made anywhere or by anyone else.
Head brewer, Marvin Kinney is an award winning home brewer with more than a decade in the craft beer business on the retail and on-premise side.  His determination to break into the craft beer business started at an early age when his dad took him on the tour of the Rogue brewery in Newport, OR.  His passion shows in all the beers that he releases and his creative tendencies are very much appreciated.
Share:
No News