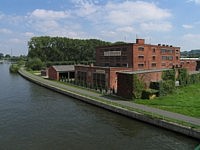 The brewery was founded in 1896 to Wontergemstraat Henri Desplenter. The steam brewery was replaced in the 1930s by a modernist building. From 1927, the leadership was in the hands of son Maurice Desplenter who was succeeded in 1950 by his son Yvan.
In 1968, the Desplenter family founded the company RIVA. The company continued to grow and the Gottemstraat, a new brewery with a larger capacity; the bottling and the administration moved to the other side of the Wontergemstraat. The success was largely due to the Dentergems white beer, which was launched in the seventies. It was, in a partnership with distributor Alken-Maes, the direct competitor for Hoegaarden white beer, divided by Interbrew.
In order to utilize the capacity of the new brewery fully RIVA went on the acquisition trail. She bought the brands Vondel and Lucifer and made the latter a strong blond beer, so the comparison with Duvel was obvious. In 1988 she gained control Brewery De Halve Maan in Bruges; when it became independent again, RIVA retained the Tall Hendrik brand. Liefmans brewery was incorporated in 1990. Between 1991 and 1993 made the Brewery Het Anker Mechelen part of the group.
Share:

Style:

Tripel

Alcohol Content:

7.2%

Global Rating:

Style:

Tripel

Alcohol Content:

7.2%

Global Rating:

Style:

Table beer

Alcohol Content:

2%

Global Rating:

Style:

Witbier

Alcohol Content:

5%

Global Rating:

Style:

Table beer

Alcohol Content:

2%

Global Rating:
Style:

Witbier

Alcohol Content:

5%

Global Rating:



Style:

Tripel

Alcohol Content:

8.2%

Global Rating:


Style:

Blond

Alcohol Content:

6.5%

Global Rating:

No News