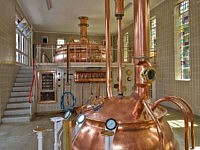 Three beers with a distinct personality bear the name Saint Monon: an amber with many hops (slightly bitter, 6,5% alc.), A brown with a rich bouquet (good balance between sweetness and bitterness, 7,5% alc. ) and a honey beer (thanks to the sweet taste of honey, 8% alc.).
They have been awarded several times by international brewing competitions. All beers are brewed based on natural ingredients.


In the tavern next to the brewery you can taste the various beers and buy. Depending on the time you can attend the brewing .The craft brewery is the result of collaboration between a young engineer who has a real passion for fermented drinks and his parents, who run a farm.
Share:
No News