Side Launch Brewing Company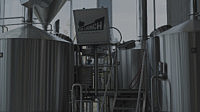 Side Launch Brewing Company is a Canadian brewery from Collingwood, Ontario.


Our name, Side Launch Brewing Company, celebrates the deep-rooted history of shipbuilding that has fuelled our town since the late 1880s. For over a hundred years, Collingwood was responsible for building lake freighters designed to fit through the narrow locks of the St. Lawrence Seaway. During World War II, Collingwood Shipbuilding was contracted to build 23 warships for the Canadian Navy.
History
Some time around 1985 while still at Molson, our Brewmaster, Michael Hancock, had the good fortune of meeting Prinz Luitpold von Bayern, the head of a castle brewery west of Munich.
Shortly thereafter, Michael found himself working in Prinz Luitpold's brewhouse, located at 75 Victoria Street in Toronto, which housed two restaurants: Denison's and Growlers. This is where Michael perhaps became the first brewer in Canada to serve unfiltered beer on draught and one of the first in North America to brew a wheat beer.
When unfortunate circumstances forced the brewhouse to close in 2003, Michael kept his two signature beers alive by brewing them under contract at various Toronto-area breweries for ten years.
Those beers were his Wheat and Dark Lager.
In 2010, Michael was introduced to a group with plans of opening a brewery in the Collingwood area who were in search of a skilled and experienced brewmaster. A few years later, in April of 2014, the Side Launch Brewing Company opened its doors and his signature beers finally found a home again.
Share:
No News