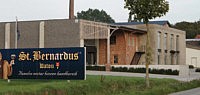 Brewery St.Bernard brews dark and blond abbey ales since 1946. All our beers are brewed with our own yeast, malts of the highest quality and hops from our own hopfield right next to the brewery.
HISTORY
In the most remote corner of West Flanders, in the middle of "Le Plat Pays", in the heart of the hop area in West Flanders, a beer is made that fancies most of the beer lovers.
In this poetry village, called Watou, time is apparently passing by slower than in the rest of the country. Life over there is different, quieter; where people live in accordance with nature, where tradition and values are honoured.
History
The history of our brewery is connected to 2 trappist monasteries, one gave us our name, the other gave us our beer.
The Cheese Factory – Trappist monks of Mont des Cats in Godewaersvelde, France. Due to the anti clerical policy in the beginning of the past century, the Catsberg Abbey Community, located in the northern part of France, decided to move to Watou, a small village only a couple of kilometres further away but located in Belgium.
They transformed a farm into the "Refuge Notre Dame de St.Bernard" and started with the production of Abbey cheese.
In the early thirties, the attitude versus the monks improved and in 1934, the Abbey community decided to dispose of the Belgian annex and to bring back all activities to France.
Mr. Evarist Deconinck took over the cheese factory from the Trappist monks and expanded the cheese factory. The most important cheese was sold under the name StBernard Watou.
NB: The cheese factory was sold in 1959 and the production is now in the hands of Belgomilk in Moorslede.
The Brewery – Trappist Monks of Westvleteren
Shortly after the Second World War, the Trappist Monastery St.Sixtus in Westvleteren was looking for somebody to commercialise their beer because they did not want to do that themselves anymore.
They gave a license to the cheesefactory, and Brewery St.Bernard was founded. The brew master from Westvleteren, Mathieu Szafranski (from Polish origin) became a partner in the brewery and brought along the recipes, the know-how and the St.Sixtus yeast strain.
We started selling the trappist beers under the brand names Trappist Westvleteren, St.Sixtus or even later Sixtus.
During a period of 46 years we brewed and commercialised the beers, while the monks continued to brew for themselves and for sales to 3 pubs in the neighbourhood, amongst which In De Vrede, just next to the monastery.
In 1992 the license came to an end and since then we are brewing the same beers, with the same recipes, but under a different brand name: St.Bernardus.
Share:
No News