Strathroy Brewing Company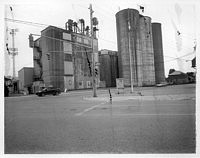 Strathroy Brewing Company is a Canadian brewery from Strathroy, Ontario.


In 1812, the sound of muskets and canons filled the air and Canadians answered the call to arms on our battlefields. The strong Canadian spirit prevailed, protecting our lands from invasion and restoring peace with our American neighbours in 1815. Thankfully, this peace has endured on our land for nearly 200 years and this calls for a celebration.
Today, history seems to repeat itself, but the fight seems to have moved from the battlefield into the boardroom. Across the nation we see the boardrooms are increasingly empty and this puts manufacturing plants at risk of being shuttered. In the beer industry, the 3 largest brewing companies have already lost the battle for the boardroom and ever since 2006 even the beer store is under foreign ownership and control for the first time since its founding in 1927.
Today not one of the top 10 brands in Ontario's beer stores is brewed by a Canadian owned and controlled brewery and I think it's time for change. Please enjoy the timeline and help our cause by supporting your local brewery.
Share:

Style:

Pale Ale

Alcohol Content:

5.5%

Global Rating:
No News