Bacchus Flemish Old Brown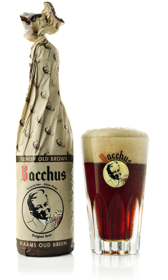 Bacchus Flemish Old Brown is a Belgian high fermentation speciality beer with slightly sour accents. This delight for the senses pours reddish-brown and has a fruity and flowery nose. Pure enjoyment.
Bacchus Oud Bruin has surprisingly fruity and flowery aromas and the taste is reminiscent of wine. Its sourness, with a hint of balsamic vinegar, is less pronounced than that of other Flemish red-brown beers. It's very refreshing with a pleasant aftertaste. This beer impresses through both its sourness and the slight touch of caramel brought by the use of roast malt.  Bacchus Oud Bruin is the mother beer on which the Bacchus Frambozenbier and the Bacchus Kriekenbier are based.
Share: