Berger Cookie Chocolate Stout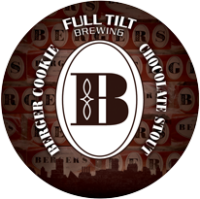 Berger Cookie Chocolate Stout is an American beer, it has an alcohol content of 6%.

Berger Cookie Chocolate Stoutis brewed with Baltimore's legendary dessert. This Sweet Stout starts with a grist of 2-Row Pale, Crystal 85L, Carapils, Chocolate Malt & Chocolate Wheat. The Berger Cookie character begins by adding actual Berger Cookies and Lactose to the boil with Nugget and Tettnang hops for balance. Cacao Nibs are added during secondary fermentation enhancing aroma. Finally, vanilla is introduced in the brite tank rounding off Full Tilt's homage to DeBaufre Bakery. "Anytime is a good time, with Berger Cookies"… and Full Tilt!
Share: