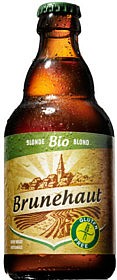 Brunehaut Blond Organic is a Belgian beer, it has an alcohol content of 6.5%.
Look: Very light golden with a delicate and persistent mousse, lovely in the glass.
Nose: In addition to the yeast it has a scent of acacia, even of small white flowers. The aromas stay well.
In the mouth: The first flavour, balanced supple almost round, a little marked by its touch of beeswax, or even pollen. Very pleasant beer as an aperitif for amateur beer enthusiasts not too marked by bitterness, which does not stop it from being thirst-quenching. An aperitif beer to accompany all kinds of vegetable-based and soft vinaigrette tapas. Best drunk in good weather.
Share: