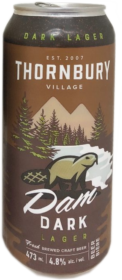 Dam Dark Lager is a Canadian beer, it has an alcohol content of 4.8%.

Our Dam Dark lager is a playful reference to Beaver River near our Craft Cider and Brew House in Thornbury Village. A key passage for spawning salmon and trout, beavers often "dammed" parts of the river causing much swearing from local conservationists until a bypass was built. Enjoy the taste of our traditionally-made beers, handcrafted in no particular hurry.
An authentic Munich Style Dunkel that is deep mahogany in colour, with a rich and complex taste that is still light and refreshing. Malt-forward with subtle hop flavours and hints of nuts, toast and toffee. It boasts a palate of delicate roastiness with dark-chocolate flavours, finishing dry and crisp.
Share: