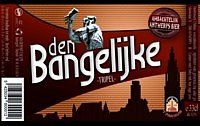 Den Bangelijke is a Belgian beer, it has an alcohol content of 9.5%.
This outstanding beer is often called "the best I ever have drunk", as true beer lovers use to say.
Indeed: den Bangelijken is our show-piece!
The first drops bring with them various tastes of malt and delicate Saaz hop on to your tongue. Quickly arrives and dominates the taste of fresh yeast as you can taste it in home breweries only. Close your eyes then and take another swig.
Feel the composition of savours: the fresh taste of the harvest apple with thereafter the overwhelming aroma as if a bouquet of flowers covers your complete gamma of tastes.
Share: