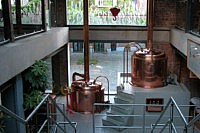 t Pakhuis
't Pakhuis on the flemish quay is one of those rare breweries where beer is brewed in an authentic way, i.e. with just natural ingredients, without any filtrage and without pasteurization. Thanks to the precise brewing process and the technical skill of the brewers we are able to brew these unique beers.
Added to this statement there's the unique building on a unique location (the Antwerp trendy South) and you are on the right place for a journey or a night trip. You can just drop in to taste our beers, for dining in our cosy restaurant or to pay a visit with a group (there are 350 places) and everywhere you will be emerged in the atmosphere of the brewery around you.
Our kitchen team offers you a varied kitchen with regional dishes and beer dishes. Every day there are special suggestions prepared with fresh products, always in perfect harmony with our home beers and all at sweet prices. Groups can choose within a big range of possibilities from buffets to gastronomical menu's at various prices.
Guided tours are available daily in Dutch, English or German. Each tour takes at least 60 minutes and includes the degustation of our home beers. Fore more information please to check the topic "guided tours" ! Reservation is necessary.
You can find 't Pakhuis at the South in Antwerp, just nearby the Antwerp Ring Road and in the neighbourhood of many places of interest like The Museum of Beaux Arts, Zuiderpershuis, Palace of Justice (Rogers), Photo and Film Museum, international Mode Museum, etc…On walking distance there's free parking.
History of the Home brewery
The first micro- or home breweries arose in Europe early '80-s. They were newly set-up or came forth out of existing local family breweries: some of them stopped brewing and switched to the serving of fresh beer at home. Most of them were German.
The starting period was tough. Expensive and complicates machinery and many difficulties in the brewing process caused the end of lots of them whereas others switched again to an common café with national brands.
Nevertheless home brewery wasn't just a phantasy. Consumers were looking for a high quality natural product matching with their personal preferential taste.
't Pakhuis is one of those home breweries where beer is still being brewed in an authentic way, i.e. with pure natural ingredients, without filtrage and no pasteurization.
The tempered and always balanced use of ingredients belongs to one of the most important skills of the master brewer.
From the very beginning the quality of our beer has been our goal.
Due to the strong demands on valuable ingredients, the precise brewing process and the skill of our brewers, we have been able to produce unique beers.
Share:

Style:

Barley Wine

Alcohol Content:

9.5%

Global Rating:


Style:

Blond

Alcohol Content:

5.1%

Global Rating:
No News