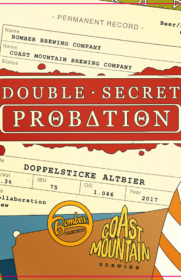 Double Secret Probation – Bomber and Coast Mountain Collab – Dopplesticke Altbier is a Canadian beer, it has an alcohol content of 8.6%.

For our collab we have a special version of a Düsseldorf Altbier that is higher in alcohol than the traditional German style with a much hoppier aroma due to the use of dry-hopping. 'Doppelsticke' means 'double se- cret' in German, hence the nod to the Delta House brothers and Dean Wormer's infamous crackdown. In the words of John 'Bluto' Blutarsky, "My advice to you is to start drinking heavily."
WINNER of SPECIALTY BEER Award at the 2018 BC Beer Awards!
Share: