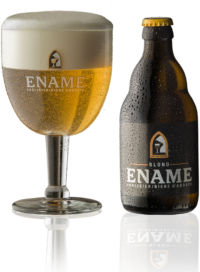 Ename Blond is a Belgian beer, it has an alcohol content of 6.5%.
This blonde abbey beer, which has been re-fermented in the bottle, is both a thirst-quencher and a special beer. Lovely fruit on the nose, citrus, malt, fruit and hops will excite your taste buds, giving way to a long, dry finish.
Tasting
Nose/aromas: Sweet malt, hints of tropical fruit (banana) and citrus fruits (oranges), suggestions of hops, light minerality.
Flavour: Playful in the mouth, pleasant bubbles, lovely malty attack followed by a fruity and slightly bitter touch, again a hint of minerality, nice dry finish.
Share: