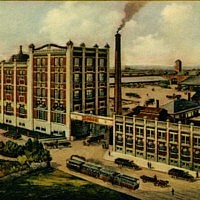 Roman is the oldest family brewery in Belgium and is famed for its vast range of beers. These are all brewed in the traditional way, with attention to craftsmanship and a passion for beer that goes back nearly five centuries…
The story starts in 1545 with a man named Joos Roman. He owned an inn named "De Clocke" in Mater, a submunicipality of Oudenaarde. This bed and breakfast avant la lettre was located along the Franco-German trade route. Roman owned an inn, a farm, a mill, a malthouse and a brewery of course. At the time, beer brewing was just one of the many activities that took place here. Over time, as the next generations took the helm, beer became the family's main activity.
The current, imposing buildings and courtyard date from 1930. Around this time, the Roman brewery was also incorporated, becoming a private limited company. Just before WWII, the brewery hit its peak, with the sale of "Oudenaarde Brown" beer, the perfect regional product. After 1945, the brewery focused on rebuilding the market it had lost during the war years. The introduction of Romy Pils created new opportunities.
Under Louis Roman the brewery gradually transformed from a company that (mainly) produced Pilsner beer into a brewery with a diverse range of speciality beers. Balanced beers which are popular with wide audience of beer lovers, beers that also regularly win awards in competitions. With the launch of Sloeber (1983), the Ename Abbey beers (1990), Mater white beer (1993), Black Hole (2005) and Gentse Strop (2011), a new wind is clearly blowing in the brewery.
Share:

Style:

Table beer

Alcohol Content:

3.5%

Global Rating:
No News