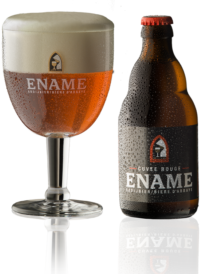 Ename Cuveé Rouge is a Belgian beer, it has an alcohol content of 7%.
A lovely coppery red colour in the glass. The aroma of this abbey beer reveals traces of malt, chaff and vanilla. Juicy malt, caramel and a hint of fruit brighten up the flavour down to the dry, slightly bitter finish. Our Cuvée Rouge, which is re-fermented in the bottle, is definitely something else.
Tasting
Nose/aromas: Fruity (ripe pears) and herby aroma, caramel, sweet malt, yeast
Flavour: Full-bodied and a touch creamy, sweet malt, hints of herbs, caramel, barely noticeable acidity, very mild presence of bitter hops, long, slightly bitter and dry finish.
Share: