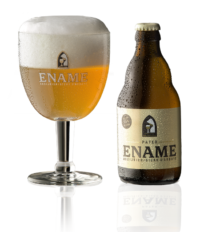 Ename Pater is a Belgian beer, it has an alcohol content of 5.5%.
This unfiltered abbey beer, which is re-fermented in the bottle, is surprisingly light and tasty. Lots of citrus, herbs and bright hops dominate the nose. The finish is dry and hoppy thanks to the dry hopping at the end of the brewing process.
Tasting
Nose/aromas: Fresh, pleasant nose with nuances of hops and malt, and a brief appearance of herbs.
Flavour: Refreshing, hints of malt and herbs, lovely bitter hops, short, dry finish.
Share: