Flint and Steel Session IPA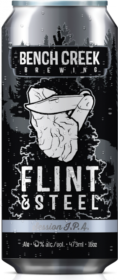 Flint and Steel Session IPA is a Canadian beer, it has an alcohol content of 4.7%.

This beer pours an amber colour with a beige head. The aroma consists of lots of tropical fruits, melon, some caramel and floral hops. The flavour is of tropical fruits, lemon rind, grapefruit, grainy malts, caramel, mild earth and a decent hops bitterness. Like all session IPA's the body is not as big as an IPA but it does have more body than most Session IPA's. 
Share: