Fourpure Hemisphere Session IPA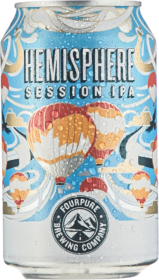 Fourpure Hemisphere Session IPA is a British beer, it has an alcohol content of 4.2%.

A London brewery making an amazingly American-style twist on a session version of a classic British beer? Luckily you don't have to wrap your head around the background of this beer to appreciate the big, bold flavours on show. Combining Mosaic, Simcoe, Cascade and Centennial hops with a crisp malt body results in an incredibly citrusy, easy drinking IPA with fruity floral notes that really make it stand out.
Share: