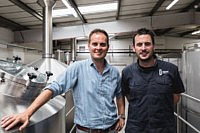 Fourpure is brewery from , .

The Fourpure story is a simple but inspiring one – two brothers with a passion for travel and adventure, looking to share their experiences of good times, great beer and welcoming hospitality, at home in London.
In 2012 Dan, an avid homebrewer and beer enthusiast, was looking to find an outlet for his craft, whilst brother Tom, travelling the West Coast of the U.S., was experiencing the open road and front line of the modern beer scene. Inspired by the daring and innovative methods adopted by modern breweries and a passion for flavour, Dan and Tom set up Fourpure in 2013 with the goal of sharing this passion, making good beer accessible and taking beer lovers on a journey to explore new tastes and flavours
We produce a range of year-round beers which are available in keg and can format, we also offer a number of seasonal small batch and one-off beers available online, in our brewery taproom and in Crowler (large can format) via our web shop. Our aim is to put out the best possible beer every time we brew and in trying to achieve this we have spent a lot of time (and money) focusing on our quality control and processes. This allows us to offer a range of styles from every day, easy drinking beers that are designed to be accessible examples of their styles through to more challenging and interesting 'small batch' beers. We also have an in-house barrel ageing programme focused on sours and darker ales.
Since our birth in 2013, we've committed ourselves to producing the highest quality beers, and being at the forefront of brewing innovation and efficiency. Early in 2014 we were the very first UK-based craft brewery to can their full core range. Customers expect their beer to be fresh and flavourful and we believe that cans – with their protection from light and superior seal, combined with lower environmental impact – help us to get them the beer in the best possible condition!
Our growing team hails from a broad range of backgrounds with a shared sense of wonder and enterprise. Our focus on our quality control, our people and our training led us to be named 2017 Most Innovative Brewery and Brewery Business of the Year at the Society of Independent Brewers annual awards. Since then we have picked up countless brewing, business and design and packaging awards, and in 2019 we completed a major rebrand so that we could better communicate our love for travel, adventure and the inspiration that feeds our beers. For those that have been on the journey with us, we salute you. For those keen to come along for the ride.
Share:
No News