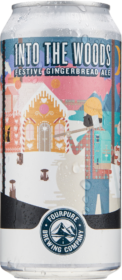 Fourpure Into the Woods is a British beer, it has an alcohol content of 5.9%.

Multi-buy offer : Mix and Match your favourite advent beers with 20% off 12 or more, and 30% off 24 or more.
This is a polarising beer in Beer Hawk HQ, it's split between those who love gingerbread and cinnamon, and those who have no christmas spirit! Bah Humbug leaks from all of their pores and they are just wrong. I love this beer, but that may stem from my sometimes excessive love of gingerbread.
Share: