Fourpure Last Train Oatmeal Stout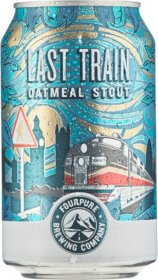 Fourpure Last Train Oatmeal Stout is a British beer, it has an alcohol content of 5.1%.

Fourpure don't do jazzy names, they'd rather let their beer do the talking. All we can say to that is: fair play to them! They make some beautiful beers which are always perfect examples of the styles. Oatmeal Stout is almost harking from a different era. It's got the earthy, oatiness coupled with heavy roastiness. It's thick and there's subtle hints of chocolate buried deep in there. Classic style? Check! Delicious? Check! Fourpure nail it again? Check!
Share: