Geneviève de Brabant Hiver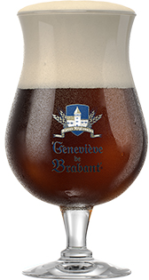 Geneviève de Brabant Hiver is a Belgian Amber Beer, it has an alcohol content of 6%.
This distinctive and thirst-quenching seasonal beer used to be reserved for farm labourers. Its chestnut colour announces winter and is topped by an amber-coloured, creamy head. It has a slightly woody nose with surprising notes of cacao. The mouthfeel is mild and long with aromas of cracked nuts, wet leaves and roasted cocoa beans. Its distinctive finish delicately reveals sugars from candied dates and figs. Its excellent saturation enables it to stay effervescent and makes it refreshing.
This beer is interesting thanks to its roasted cacao fragrances that announce festive winter evenings. It is comforting and appealing, harmonious and well-balanced.
To be drunk with fritters, pancakes or waffles.
Share: