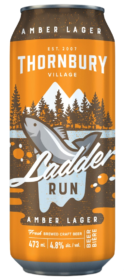 Ladder Run Amber Lager is a Canadian beer, it has an alcohol content of 4.8%.
Located in the heart of Thornbury Village – home of our Craft Cider and Brew House – the Beaver River is home to trout and salmon. Our Ladder Run Amber is a tribute to the fish ladder that allows fish up river to spawn. Come Fall, it's exciting (for us) to watch the jumping Chinook Salmon migrate.
This amber-coloured Lager is crafted with Vienna malt and noble hops. It is a medium-bodied beer with smooth malt and very moderate hops notes. The malt flavour is clean, and bready, with a nice rich toasty character. The palate is smooth and creamy and finishes with an amazing toffee-malt flavour, and nice, dry crispness.
Share: