Katabatic American Hefeweizen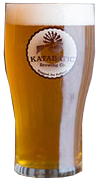 Katabatic American Hefeweizen is an American beer, it has an alcohol content of 5.7%.

Has slight grainy-sweet wheat character. The ale is colored like pale yellow straw, and its appearance is hazy because of the yeast in the beer, approximating the German Hefeweizen style of beer. It pours with a big, long-lasting white frothy head of foam. Aromatic esters impart a slight sweetness and citrusy zest on the back of the palate. This is our original SESSION beer, it finishes crisp and dry. Served in a 16 oz. pint.
Share: