Katabatic Brewing Company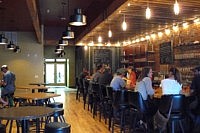 Katabatic Brewing Company is an American brewery from Livingston, Montana.
kat•a•bat•ic: a cold, downslope wind that is often severe.
Katabatic Brewing Co. opened in September of 2014 in Livingston, MT. Livingston is located at the head of the Paradise Valley, sandwiched in between the majestic Crazy Mountains and the formidable Absaroka Range, where the plains meet the mountains.
Livingston is home to a burgeoning craft beer scene, home to 14 art galleries, and the home of Katabatic Brewing Company.
Share:
No News