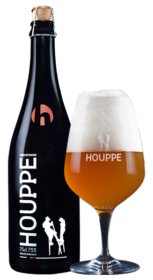 A blond beer with a copper appearance and an alcohol content of 7.5 ° .
It has a fine and balanced bitterness . The aromatic nose betrays the presence of a subtle blend of three kinds of hops . His palate is soft and highlights some citrus notes .
The typicality of the Houppe is obtained by the return to three traditional brewing methods :
Dry hopping: we add one of the three varieties of during the fermentation process .
A long aging, which allows us to offer you an unfiltered beer. This is the time that gives maturity to our beer
The use of selected yeasts and seeding from a fresh sourdough guarantee some typical ester notes.
Serve cool or slightly tempered to allow the release of aromas. Stored vertically , use the slightly tilting your glass without spilling the dregs.
Before the taste:
Admire the beer in daylight: you will see a blond beer with a copper appearance and releasing a generous sparkling.
Dip your nose in the glass: the Houppe exudes a fruity aroma reminiscent of citrus as well as hints of hops notes.
In the mouth, finally making the fruity and slightly sweet flavors instead of the fresh bitterness of three different hop varieties .
A balanced beer that is 7.5 ° easily hides. Finally, in the mouth, fruity and slightly sweet flavor fades in favor of a bitterness built on 3 varieties of hops.
Share: