Brasserie Artisanale de Namur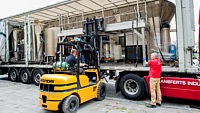 At the origin of the project, five passionate people who met around two centers of interest: The passion of Namur as well as the pleasure and the curiosity to taste artisan products and typed.
In recent months, the project has become increasingly collaborative with the daily support of the Ballon-Perrin family, which offers us its premises as well as the presence of a former brewer in retirement who gives the brewery its advice And the arrival of our first employee.
Two years after its launch, the artisan brewery of Namur has moved into its new facilities on the banks of the Meuse at the former brewery of the Plante.
250,000 € of investments allow the artisan brewery of Namur to be more and more autonomous in its production.
A symbolic place that revives today with the arrival of the artisanal brewery of Namur
The artisan brewery of Namur has decided to go to the old Brasserie Balon-Perrin (dating from 1812) located on the banks of the Meuse in Namur. It is in this former brewery that the Echasse moves a brewing room of 10 Hl and 3 fermenters with a total capacity of 100 Hl. All the elements that mattered to him in this project are therefore: a flexible production tool, a situation in the immediate vicinity of the center of Namur, in a place with a brewery history.
Share:
No News