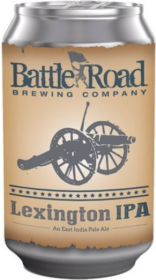 Lexington IPA is an American beer, it has an alcohol content of 6.2%.

The Lexington IPA is a perfect blend of old and new. Battle Road uses a classic New England strain of yeast for clean ale flavor. A selection of finest barleys with lots of Vienna malt. And of course a blend of hops including Centennial, Azacca, Mosaic and Citra. Dry-hopped with Citra and Centennial.
Deep brass color, firm malt character, not too dry. Plenty of citrus hop flavors with orange zest on the tongue, with pine and lemon in the aroma.
Share: