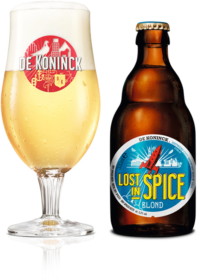 Lost in Spice is a Blond Belgian Beer, it has an alcohol content of 5.2%.
We love experimenting at the City Brewery! With multiple, sometimes slightly eccentric test brews as a result! Beers that are normally brewed only once and available for a limited time only. But Lost in Spice, our fourth test brew, just seemed to hit the nail on the head. And because it quickly earned such a loyal following, we decided to make it a permanent fixture alongside the Bolleke, Triple d'Anvers and Wild Jo.
How did it all begin? Our Master Brewer, Sven was completely Lost in Spice when instead of hops, he loaded our hop gun with spices. At which point dry hopping made way for "dry spicing" with ginger and cardamom. In addition, orange peel, coriander and lemon were also added to the mash tun, resulting in a refreshing, pithy blond beer of 5.2% alcohol with fruity notes of citrus and a spicy aftertaste. Lost in Spice lets you taste the sun all year round!
Share: