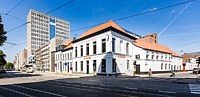 De Koninck Brewery is a Belgian brewery based in Antwerp (Antwerpen in Dutch). The glass in which De Koninck's flagship beer is served is called a bolleke, although this term is most colloquially used to refer to a glass filled with the beer itself and is the way the beer is ordered in bars.
De Koninck beers have been brewed at our Antwerp City Brewery since 1833. enthusiasm proud history that has inspired us to venture into new territory. The result? A particularly sparkling matter of affairs in the form new, astonishing and experimental beers.
And on top of all that, we are delighted to welcome you to our newly revamped site. Our interactive brewery tour fully immerses you in our world. And if you are looking for a unique location to wet your pallet, the Antwerp City Brewery is a popular venue for unique events and true-blue trendsetters who have made the Antwerp City Brewery their home base.
Share:

Style:

Blonde Ale

Alcohol Content:

5.2%

Global Rating:
No News