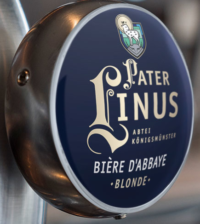 Pater Linus is a German brewed in the Belgian tradition, it has an alcohol content of 6.5%.

Abbey Beers are authentically different from mainstream lager in presentation, taste and story. They combine a quality that deserves appreciation and a taste that warrants savouring. Strongly linked with the Belgian culture Abbey beers – often brewed in small, handcrafted batches with top-quality ingredients, one could call it the original craft beer! To honor the living heritage the UNESCO inscribed the Belgian beer culture on the Representative List of the Intangible Cultural Heritage of Humanity in 2016.
Whether produced by Trappist monks in their monasteries or brewed in partnership with an abbey of a different order, these specialty beers offer a true and authentic beer sensation based on exceptional recipes that reflect the tradition and values of the monastery.
Share: