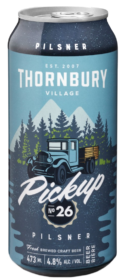 Pickup No. 26 Pilsner is a Canadian beer, it has an alcohol content of 4.8%.
Pickup No. 26 Pilsner is a tribute to our farming heritage. In the country, the pickup has always ruled. Our Craft Cider and Brew House is located just off Highway No. 26 as you enter Thornbury Village. Enjoy the taste of our traditionally-made beers, handcrafted in no particular hurry.
An authentic Czech-style pilsner brewed with Bohemian malts, Saaz hops and genuine Czech yeast. These traditional ingredients are handcrafted by our Brewmaster in small batches creating a bright, golden-coloured, refreshing beer. Pleasing malty flavours and a soft floral and spicy hop character make this a complex and well-balanced Bohemian Pilsner.
Share: