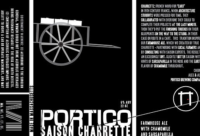 Saison Charrette is an American beer, it has an alcohol content of 6%.

'CHARRETTE': French word for 'cart'
​In 19th century France, when architecture students were pressed for time, they collaborated with everyone they could to complete their projects at the last minute.  Then they'd put the finishing touches on their blueprints on the way to the studio, in their case on route in a cart.  This  tradition inspired  our farmhouse ale, which we created by true charrette – partnering with local farmers and by consulting with saison experts. The result is an exceedingly dry, slightly bitter saison with hints of sarsaparilla in the nose and the earthy flavor of chamomile throughout.
​
Share: