Samuel Adams Rebel Cascade IPA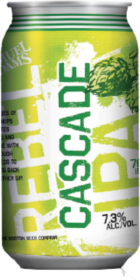 Samuel Adams Rebel Cascade IPA is an American beer, it has an alcohol content of 7.3%.

What makes an IPA?  The style has evolved with unlimited creativity but at its core those three letters signify a love of hops.  This brew is the result of our own exploration of Cascade, the signature hop found in American Pale Ales and IPAs early on in the Craft movement.  We returned to the US grown variety and found its confident expression voice – unabashed grapefruit rind aroma, piney resinous spice, and a hint of earthiness for a firm and striking hop character.
Share: