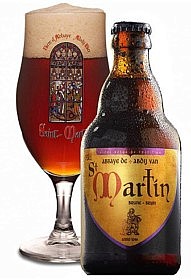 St. Martin Brune is a Belgian beer, it has an alcohol content of 8%.
Look: Dark and strong mahogany colour. Light head that remains for an average time.
Nose: First a dairy and cheese-like aroma. Then, coffee and roasted coffee beans. A touch of warm brown sugar,
cane sugar and rum.
In the mouth: The mouth closely follows the nose, the roasted coffee, the grill. The caramel is just right without being too much. Then there is a lovely freshness that balances the whole but attention this is a beer for with a meal or for tasting. Goes well with meat with sweet and sour sauce, duck à l'orange ….
Share: