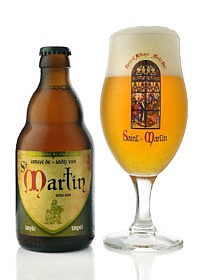 St. Martin Triple is a Belgian beer, it has an alcohol content of 9%.
Look: A strong look, old gold. A strong, fine foam edge stays well.
Nose: The first nose is marked by candied fruit and a touch of acacia honey and supported by the fermentation to prevent it from being excessively sugary.
In the mouth: Supple, round and full flavour. Rich. The impression of a delicacy in the mouth comes before the thirst-quenching impression. A beer for tasting rather than quenching thirst.
To be kept to be enjoyed by the fire with Herve cheeses briefly prepared in the oven with some Liege syrup (apple and pear syrup). A beer for gourmets.
Share: