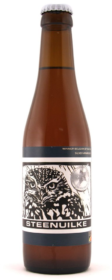 Steenuilke is a Belgian beer, it has an alcohol content of 6.5%.
Steenuilke is a unique and spicy blond beer with a slight malt taste, a subtle fruitiness and a fine spicy, slightly grassy taste. It has a full-bodied hoppy and dry aftertaste.
This blond tasting beer was created in collaboration with the Regional Landscape Flemish Ardennes to support the pit owl project in the region. To emphasize the specificity of our region and this small animal, three herbs were carefully selected that grow in the region. These give the beer its own full flavor and flavor, so that one quickly tastes for more.
Share: