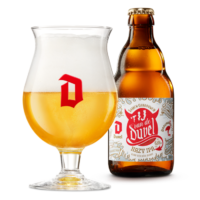 't IJ van de Duvel is a collaboration beer made by Duvel Moortgat from Belgium and t'IJ  from The Netherlands.
Both Duvel and Brouwerij 't IJ share a great passion for brewing and the ambition to create new flavors. With summer approaching, both breweries have joined forces and a new beer is being shared: 't IJ van de Duvel, a hazy IPA – a blonde beer with a nice cloudiness.
This specialty beer is floral, fresh, hoppy and fruity at the same time, making it a perfect beer for longer and warmer days, to enjoy together on the balcony or in the garden and on the terrace.
Share: