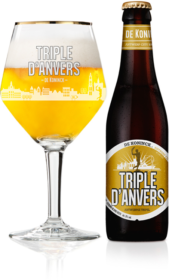 Triple d'Anvers is a Blond Belgian Beer, it has an alcohol content of 8%.
Triple d'Anvers is a real Belgian triple with more than just a touch of Antwerp style. Bold, generous and with plenty of attitude. A brewer's ode to Antwerp.
You'll soon discover that this beer is full of enjoyment, right from the first sip. With a pleasantly surprising and slightly sweet taste that gives way to refreshingly sparkling notes. Take in the spicy aroma with hints of orange zest and coriander, complemented by a full-bodied aftertaste.
Share: