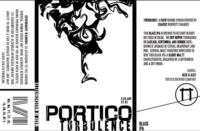 Turbulence is an American Black IPA, it has an alcohol content of 6%.

'TURBULENCE':  A flow regime characterized by chaotic property changes
This Black IPA is brewed to be light in body but bold in color.  We dry hopped Turbulence on cascade, centennial and chinook hops, giving it aromas of citrus, grapefruit and pine.  Several malt varieties were used to give this Black IPA medium body and mouth feel with a strong hop bitterness and a dry finish.
Share: