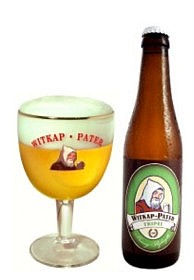 Witkap Pater Tripel (Alc. 7,5% vol.) is a clear gold-yellow beer, with a complex taste, a fruity nose and a beatifull long aftertaste.
In the 'New York Times' this beer is ranked at 8th place of the best beers of the world.
Witkap Pater is a living beer of high fermentation, brewed on an old traditional way and with the finest natural ingredients among which bitter and aromatic hop flowers.

Witkap Pater is a beer of high fermentation. First their is the main fermentation, starting at 25°C. Afterwards the coo down at low temperature. The beer is than bottled or put in a barrel and stored in a warm cellar in order the ferment for the third time. This gives the beer its excellent tastes and natural conservation capability of several years. When the ferment has transformed al the sugar, the ferment will lower to the bottom and Witkap Pater will be cleared in a natural way (without filtration). It is important not to shake the bottle and to pore the beer in one smooth move in order to keep the grounds at the bottom of the bottle.

 Witkap Pater can be given at different occasions: as an aperitif, together with a meal, on a sunny terrace or at the fire place. Witkap·Pater is also suitable for cooking with.
Share: