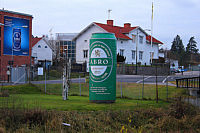 Åbro Brewery is a Swedish brewery from Södermanland and Uppland.

The Åbro Brewery was founded in Vimmerby, Sweden in 1856 and we have been brewing the finest beer ever since.
Our brewery is nestled in the small town of Vimmerby in Småland. For four generations Åbro has been run by the same family and many of the local families have been working with us for generations too. No wonder the people of Vimmerby are so proud of their beer.
We take great pride in our tradition and will stick to our ideal.
Share: