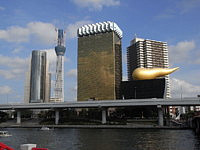 Asahi Breweries is a Japanese brewery from Tokyo Metropolis Prefecture, .

Asahi Breweries "アサヒビール株式会社" is a leading brewery and soft drink company based in Tokyo, Japan.
History

Asahi was founded in Osaka in 1889 as the Osaka Beer Company (大阪麦酒会社 Ōsaka Bakushu Kaisha).During the First World War German prisoners worked in the brewery.
In 1990, Asahi acquired a 19.9% stake in Australian brewery giant Elders IXL which has since become the Foster's Group, later sold to SABMiller.
In 2009, Asahi acquired the Australian beverages unit Schweppes Australia.
In early 2009, Asahi acquired 19.9% of Tsingtao Brewery from Anheuser-Busch InBev for $667 million. The sale made Asahi Breweries, Ltd. the second largest shareholder in Tsingtao behind only the Tsingtao Brewery Group.
In July 2011, Asahi acquired New Zealand juice maker Charlie's and the water and juice divisions of Australian beverage company P&N Beverages.
In August 2011, Asahi acquired New Zealand's Independent Liquor, maker of Vodka Cruiser and other alcoholic beverages, for ¥97.6 billion.In May 2013 its New Zealand operations expanded with the purchase of retail chain Mill Liquorsave.Also, Asahi acquired the Australian brands and assets of Cricketers Arms and Mountain Goat Brewery in 2013 and 2015, respectively.
In 2016, the company bought a number of breweries in Europe as a result of regulators' demands before SABMiller was acquired by Anheuser-Busch InBev.
In 2017, the company sold its 19.9% stake of Tsingtao Brewery for $937 million.
Share:
No News