Blacksmith Brewing Company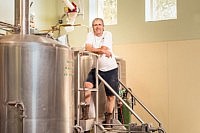 Blacksmith Brewing Company is an American brewery from Stevensville, Montana.
Blacksmith Brewing Company opened on October 25th, 2008. The building that houses our brewery and taproom was built in 1908. It began as a steam laundry and later became a blacksmith shop. With every brand the blacksmith made he would then burn it into the wall to make sure it was perfect. The brands still are embedded into our walls showing those who passed this way. It took a great vision to see what it could become and a lot of hard work.
Blacksmith Brewing Company is located in Stevensville, Montana. A town rich in history, a valley surrounded by beauty, and a blue-ribbon river close at hand. You will be hard-pressed to find a better place on earth, with beer this good!
Share:
No News