Bobcaygeon Brewing Company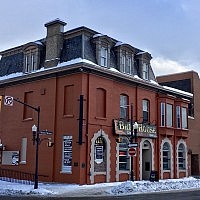 Bobcaygeon Brewing Company is a Canadian brewery from Ontario.

Bobcaygeon Brewing Company was founded to achieve one goal, to brew great craft beers to be enjoyed among friends. That's it. Nothing more, nothing less.
We are excited to be working with Parks Canada to fulfill our original goal of building our  brewery in Bobcaygeon and producing our beer here," said Richard Wood, president and co-founder of Bobcaygeon Brewing, in a statement. "We look forward to a strong long-term relationship with  Parks Canada and the community to promote both craft beer and economic development in Bobcaygeon and the surrounding areas.
Construction on the new facility, which will include a brewery, retail store, and taproom, is set to start this autumn, with plans to open in 2018. In the meantime, Bobcaygeon brands including Common Loon APA, Dockside Red Ale, and Sunset Golden Ale will continue to be brewed under contract and distributed to retail outlets and licencees throughout Ontario.
Share: