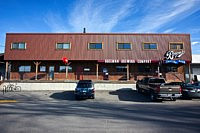 Bozeman Brewing Company is an American brewery from Bozeman, Montana.

When Todd Scott met his future wife Lisa Danzl while both were working and playing in Yellowstone National Park in 1986, they conceived a dream together: To one day live off the land. It was a dream inspired by a trip to Alaska and a love for the outdoors, and one day, darn it, they were going to make it happen.
The couple moved to Tahoe, where Todd put his culinary degree to work as a sous chef while they skied. It was here that they decided it was time to become self-sufficient. Todd had every intention of making their own soap, toothpaste, even toilet paper. But one thing haunted him… he didn't want to live without beer. He had no choice; the first step was to learn how to make his own. And that was also the last step.
Todd's natural knack for home brewing, made with borrowed equipment, quickly trumped the couple's off-the-grid dreams. And let's just say that Lisa wasn't all that disappointed… now she didn't have to use the homemade toilet paper for starters, but she also got to drink some damn good beer. Todd and Lisa had never tasted such fine brew, and they knew they were on to something special.
That was just the beginning of the journey toward Bozeman Brewing Co. beer. The rest goes something like this…
Todd refined his beer making skills for a brewery in Calistoga, while working another job and taking classes on the art and science of beer fermentation at UC Davis. But all the while, Montana beckoned.
Todd scored a job as the head brewer for Spanish Peaks in Bozeman―a position he held for 10 years―and Lisa worked for the City. When Spanish Peaks moved production to California, Todd and Lisa knew it was time to bring their own fine brews to the beer drinkers of Bozeman. They bought the equipment and opened the doors to the Bozeman Brewing Company warehouse in 2001, on the edge of Bozeman's historic Brewery District on the north side.
There, Bozeman Brewing Co.'s flagship beer, Bozone Select Amber Ale (based on a recipe that Todd had perfected over the years), made its way to the beer drinkers of Montana. Today, the same warehouse rotates seasonal ales and lagers, along with the regulars Hopzone IPA, Plum Street Porter, Gallatin Pale Ale and Two O'clock Wheat, all on tap in the BBC tasting room.
Share:
No News