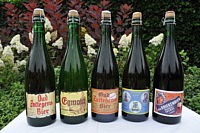 The beers Crombé have a rich history. The roots of these beers are in Zottegem. An East Flemish town in the hills of the Flemish Ardennes. This city has long Brewery Crombé been established for over 200 years.
The beers are known for their character. They passed the time and still delight lovers of traditional ales. Today, the beer is still brewed in Flanders, but not in Zottegem. We wish to let the tradition of our family survive and continue to enjoy these special beers.
Beers Crombé stands for unique flavors that go through the ages by enthusiasts from all over the world, tasted and praised.
Undoubtedly the Old Zotte Gems Beer and Old Kriek beer by far the most famous beers from the brewery Crombé. Both strains of the past. Not for nothing adorned in preparation for the 200th anniversary, a full length mural with the slogan "the oldest – the best", the gatehouse of the family brewery.
Share:

Style:

Special

Alcohol Content:

6.5%

Global Rating:
No News