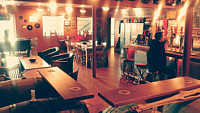 Firehall Brewery is a Canadian brewery from Oliver, British Columbia.

The Firehall Brewery and "Beer Shop & Social" is a small, family operation, bunkered below the "Old Firehall" on Main Street in Oliver, British Columbia, Canada.
Centered downtown in the Wine Capital of Canada, we're in the unique position of being both the fuel for winemakers and the palate cleansers for winedrinkers. Known for its sunshine and natural beauty, the South Okanagan is the paradise where we've chosen to brew.
Owned and operated by two families, the Huttons and the Ruhlands, we encourage you to make yourself feel at home in our social space, where we emphasize the importance of craft quality and personal relationships.
Share:
No News